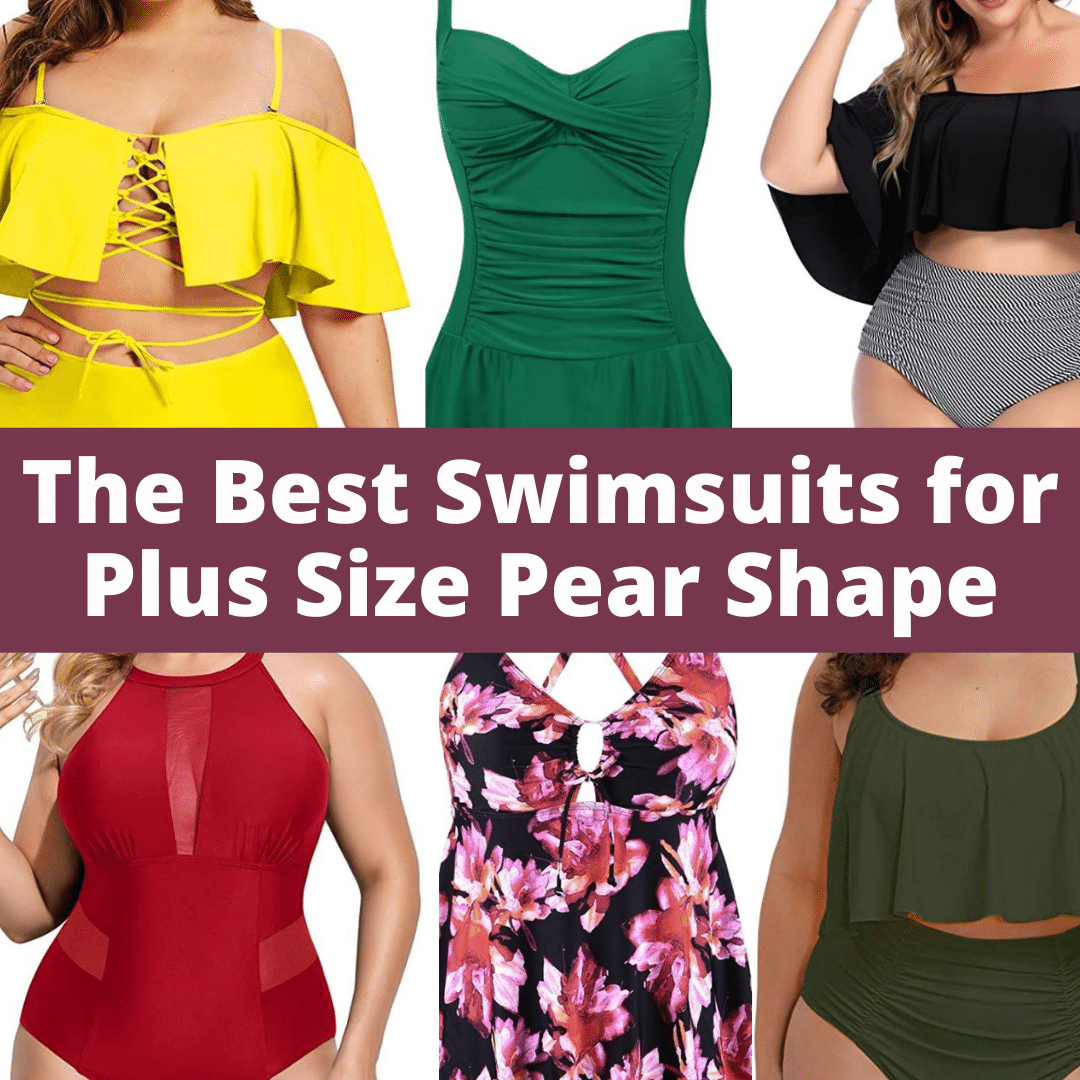 Best Plus Size Swimsuits for Pear Shaped Figure
A pear shape body type is characterized by narrow shoulders, a smaller bust, and wide hips.
You are likely considered pear shape if you carry excess weight around your thighs and have muscular or full legs.
You are in luck if you want a plus size swimsuit that flatters a pear shaped body type. There are TONS of flattering swimsuits to choose from!
Continue reading for the BEST swimsuits for plus size pear shape.
These swimsuits are great you pear shaped women!
This post may contain affiliate links. View the disclosure here.
The Best Types of Swimsuits for Pear Shape
Pear shaped women look great in two piece swimsuits with frills and ruffles on the top, tankinis with flouncy tops, and off the shoulder one-piece swimsuits.
Swim dresses (a skirted one piece) are your friend if you are plus size pear shape. Just make sure the swim dress doesn't end at the widest part of your thigh.
When shopping for a swimsuit, look for swimsuits that do the following:
Emphasize the waist (it's a great feature!)
Look for swimsuits that draw attention upward (with details on the top) and away from your thighs
Create the illusion of a chest and boobs (some ruffles help)
Search for swimsuits with padding on the top or that offer "lift"
Choose darker bottoms to draw the attention away from your thighs
Selection Criteria for the Best Swimsuits for Plus Size Pear Shape
Wondering how I came up with this top 10 list?
A swimsuit had to have over 500 reviews on Amazon, an overall rating of 4.5/5.0 stars or higher, and actually LOOK good on women.
The 10 Best Swimsuits for Plus Size Pear Shape
Here are the best plus size swimsuits for pear shape figures!
1.

IN'VOLAND Plus Size Two Piece Bikini
What Plus Size Women Say About this Bikini
Love, Love, Love this 2 piece! As a "big girl" (6'2 295 lbs) its my 1st time wearing a 2 piece...BUT I felt better in this than any 1 piece I have EVER worn! You'd easily pay $100 or more for this in a plus-size store! GREAT BUY!
As a plus size woman it's scary ordering swim suits on line. But after reading other reviews and watching YouTube videos on this suit. IT'S PERFECT! The cut is flattering, hiding my arms and slimming my waist.
2. Sovoyontee Plus Size Two Piece
What Amazon Reviewers Say About This Swimsuit
Omg I am in love with this swimsuit. The orange is so bright and colorful. It flatters all my 3x curves!!!
I was super skeptical about this suit until I saw it on another plus-size woman. It's a very flattering suit. Covers the arms and midsection, but still shows off great attributes.
The orange is neon, which I love. It was a great suit for Vegas.
3. Daci Plus Size One Piece
What Plus Size Pear Shape Women Say About this Sexy Swimsuit
Get it!!! It's Flattering. I love this bathing suit. I'm pear shaped so I love suits that enhance that quality. It's sexy and it fits perfectly.
Cute. I love the color of this swimsuit and how it flatters my pear body shape.
4. Aqua Eve Plus Size Two Piece Off Shoulder Bikini
What Women Say About this Two Piece on Amazon
Buy it!! I'm 5'9, 237lbs... pear shape. Get it!!
Just go ahead and buy it sis. The straps are adjustable and comfortable. The bottoms are high-waisted and cover my stretch marks. And I felt sexy! Girl, I haven't felt sexy since high school. So do yourself a favor and just add to cart. Lol
5. Pink Queen Two Piece Bikini
What Plus Size Women Say About this Swimsuit
BUY this suit...You WON'T regret it!! I wear a 16W and got the 3X size my thighs and hips are wide.
I LOVE THE WAY IT FITS! Great fit, good coverage, and cute and trendy still!
6. Aqua Eve One Shoulder Ruffle Swimsuit
What Pear Shaped Women Say About This Swimsuit
Good for pear shapes. The flounce provides a nice fullness through that area.
Generous coverage for the behind.
7. Firpearl Tankini Swimsuit with Crossback Top
Make sure to buy separate bottoms to wear with this top!
What Pear Shaped Women Say About This Swimsuit Tankini
Wow! So far, very happy with this tankini. Low/narrow shoulders, 53" hips...your basic pear-shaped person.
Recommend! It's very flattering and fits very well, especially for my pear shape. I love it!
This top actually made me look like I have pretty boobs.
8. Hilor Women's One Piece Front Crossover
Why Plus Size Pear Shape Women Love This Swimsuit
I am a proud pear shaped lady (5'9"). My measurements are a small bust, average waist, and thick thighs. This suit is superbly cute and fits nicely. (Ordered size 16)
Finally! A bathing suit that fits this pear-shaped woman! Very flattering.
Flattering on short, pear shape. I am 5'1" 142 lbs pear shaped with short, thick legs, big hips, and very small bust. I think this bathing suit was made for people with my body type. It is so flattering on my top half and my body half.
9. Tutorutor High Waisted Bikini
What Amazon Reviewers Say About this Swimsuit
I'm 5' 4", 165lbs (I'd say I'm pear shaped) and I ordered a large. The top is so extremely flattering. The bottoms are high waisted so it gives the feel of a one piece (for coverage) but the ease of a two piece.
I am 5'10 and 250lbs with a pear shape. Fits great.
Highly recommend. I am pear shaped & it accentuated my body perfectly. The straps are adjustable & have the ability to criss cross in the back for maximum support!
10. Cherrydew One Piece Swimdress
What Pear Shaped Women Say About this Swimdress
I really like the style of this swim dress. It is designed to shape, sculpt and hide your flaws. The molded cups work really well for my smaller chest to give shape, cleavage and support.
The torso has good tummy control and the ruching in the front panel helps hide any lumps and bumps. The skirt is long enough to cover the widest part of my hips for the most flattering look.
The 3 Cutest Plus Size Coverups
An a-line coverup will look great on you! Or, go with a sexy sarong or wrap. It will highlight your waist and your curves nicely.
Want a cover up that's also a bit sexy? These three cover ups come in plus sizes, flatter pear shape women, and get AMAZING reviews by women on Amazon.
1. Prime Leader Cover Up
This super cute cover up is perfect for island vacations and draped nicely over plus size women.
One Amazon reviewer said, "I could not have been happier! Not only were they fabulous as a swim cover up...but one night for dinner (too)."
2. SHU-SHI Beach Cover Up (Fits Plus Size!)
Don't be fooled by the fact that this comes in one size. Plus size women LOVED this cover up on Amazon.
Here are a few quotes from the reviews.
Size was perfect for plus sizers. This fits me perfect and even has room to spare. The material is very soft and the color is very nice.
LOVE IT! I am a plus size girl (size 16).
I have wide hips and a plus size, curvy figure...covers perfectly.
3. IN'VOLAND T-Shirt Cover Up
What Plus Size Women Say About this Cover Up
Absolutely love this! I am a 3x. Fit perfect and looked cute!
I bought this for my vacation in Hawaii and it was perfect!
Swimsuits to Avoid for Pear Shape
Avoid boy shorts if you have a pear shape! Boy shorts end RIGHT at the widest part of your leg, which is not particularly flattering.
Also, avoid swimsuits that draw attention to your thighs...like string bikinis. This makes people pay attention to your thighs.
How to Hide Stretch Marks in a Bathing Suit
Have stretch marks that you want to hide at the beach? There are two main ways to cover stretch marks in a bathing suit.
Concealer: Get a good, long lasting, waterproof concealer and apply on top of the stretch marks.
Self-tanner: Exfoliate your skin first (as a best practice before applying any self-tanner), and then apply self-tanner over your legs (and stretch marks).
These solutions aren't perfect, but they will help!
Summer Dresses for Plus Size Pear Shape
If you want a new, fun, summer dress (or vacation dress!) for when you AREN'T at the beach or pool, check out these flattering dresses!
A-line dresses and off the shoulder maxi dresses look great on pear shape women.
Dresses with Rouched Details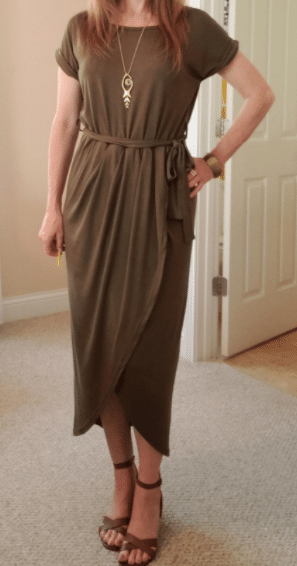 Maxi Dresses
Loose Tops
Wraps and Kimonos
More Swimsuit Guides
Explore All Plus Size Swimsuit Guides
You may also find cute swimsuits and get inspiration from this Pinterest board.